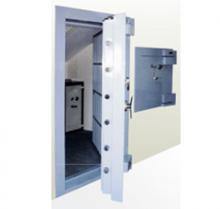 Model No. Type A Vault Door - Highest Security Level

Description: Equivalent to UL 608 Class II and EN 1143-1 Grade X.
Weight (kg): Between 2300Kg to 2500Kg.
H (mm): 2100

W (mm): 1100

D (mm): 350
Main features:
Door: Fabricated From multiple layers of high-quality special material, bonded together in an integrated form to provide highest grade for burglary and fire resistance. The overall thickness of the door is about 350mm, the effective thickness is 220mm structured from enhanced specially-formulated barrier materials with proven resistance to high-speed drilling, hammer, mechanical tools and thermal attacks.

Locking:

Mechanical combination lock Or electronic combination lock: LaGard or Sargent & Greenleaf, made in USA with certificated VdS Class III, equivalent to EN 1300 Grade B
Keylock: A 14-lever keylock, providing 5,000,000 key differ, MAUER made in Germany with VdS certificated Class II, equivalent to EN 1300 Grade B

Boltwork : The heavy 50mm diameter bolts provide four-way locking, 6 Locking bolts from both sides, the right and the left, 2 on the upper and 2 on the lower end of the door. Total of 16 bolts. Equipped with mechanical relocking mechanism.

The vault door's weight is between 2800Kg to 3000Kg.

The vault door comes with day-gate to control access when the vault door is open.

The main difference between Type A and Type B is in the oxyacetylene and drilling resistance.
Dimensions are approximate. In line with our policy for continuous improvement, we reserve the right to alter any part of these specifications without prior notice and without incurring any obligation.