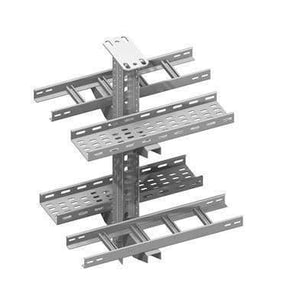 Description:
AYOUBI CABLE SUPPORT SYSTEMS is a Jordanian manufacturer, member of the AYOUBI GROUP, founded in 1958.
We supply a large variety of Cable Trays and Cable Ladders and there accessories, to cater for a large variety of clients needs and design factors such as:
Working Load: Size (Width, Loading depth and Strength).
Installation Environment: Material and Finish.
Support Span: Strength and Length.
We are willing to accommodate other clients requirements not offered as standard production, in a case by case basis.
We are geared for large size projects, for complete cable routing systems in terms of quality, speedy on time delivery and best value.
 Ayoubi Cable Support Systems conform to all NEMA VE-1 standards referring to definitions of cable trays, fittings, connectors and accessories.
Additional information can be found here.