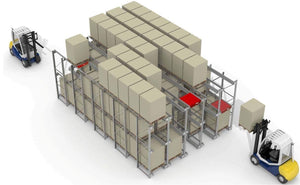 Description: 
The Ultimate Solution for high density storage:
Pallet Shuttle, it's a programmable machine (feed by a rechargeable battery, and controlled by remote control), it's used to transport pallets within racking system (DRIVE IN structure), and can move easily under pallets working on its specially designed channel,
When task completed the Shuttle returns to its position (at the front of the lane) to be ready for a new task
The forklift can move shuttle from one storage channel to another easily.


Advantages and features:
 FIFO and LIFO
 Shuttle work with any forklift type
 Full selectivity of different SKU at any opening
 Assign tasks with the highest level of speed, precision and efficiency
 Space Utilization
 Goods can be stored in the warehouse with highest density with low cost
 Suitable for Food and beverage bulk storage ambient, cold, and freezer applications
 Reduce product and forklift damage due to less handling
Technical Specification:
 Nominal load Capacity: 1500KG
 Standard working time - (8 to 20 hrs.)
 Charging time at normal temperature 100% recharged in 5.5hr
 Traveling speed range from (0.5 – 1) m/sec
 Lifting time: 3s
 Battery replacement time: 34- minutes
 Control Mode: to be operated manually and by wireless remote control
 Battery lifetime: 3 - 10 years
Contact us on
sales@ayoubi.com
for a free quotation.