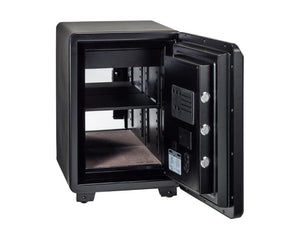 Model No. UP 060

Description: Premium Fire Resistant Safes  "KS-1 Hour"
Weight (kg): 100.0

H (mm): 700

W (mm): 484

D (mm): 500

Color: Black

Main features:
Outstanding fire resistant technology of 45-year experience in the industry : KS 1hour, SP 1hour
Upgraded anti-burglary functions  : Thicker locking bolts : 6pcs (*Diameter : 28mm)  (DYNAMIC BOLTS : 3pcs + STATIC BOLTS : 3pcs)
Upgraded alarm against shock and tilting (*Alarm sound :120db)
Modern design
Reliable digital lock with backlit keypad
MASTER KEY Function: Available
Dimensions are approximate. In line with our policy for continuous improvement, we reserve the right to alter any part of these specifications without prior notice and without incurring any obligation.